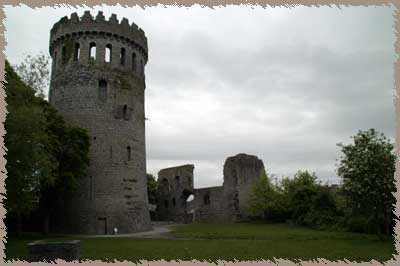 the 100' tower of Nenagh
I wish it hadn't been raining buckets when we visited here - we spent some time in the octagonal museum just across the way, and then ventured out to take some pictures of the unusual round tower.

The castle was built by Theobald Walter between 1200-1220, and was part of the walled town defenses. His descendents (the Butlers), abandoned the castle to the O'Briens in the 14th century when the Butler family moved their principal seat to Kilkenny Castle. It was returned to the Butler family in 1533 when the Earl of Ormond reclaimed it. It was burnt during skirmishes between the Butlers and O'Carrolls in 1548. It passed through many hands until it was slighted in 1689 and it was finally sold off by the family in 1703 to pay debts.. The town walls and defenses were also destroyed.
THe keep is circular - we didn't see many of these as free-standing towers. The walls are up to 4.6 meters thick (which can't leave that much space inside, to be honest) and there are four stories. There would have originally been three towers, this is the only remaining. THe curtain wall and western tower have been destroyed, only a bit of the east tower remains. It was originally quite a bit shorter; the top tier of stone was added in 1860, when the fancy machicolations and windows were added by Reverend William Flannery.. The intention was to make the structure into the bell tower for a huge cathedral, but the church was never built.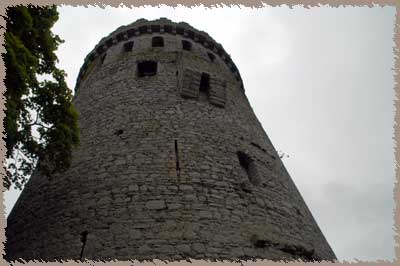 looking up at the latrine and small windows