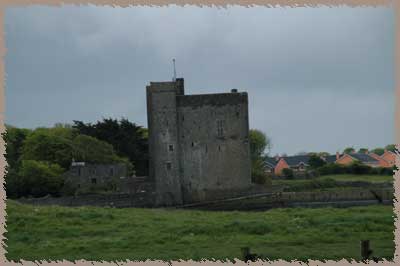 a view of the restored castle in Oranmore
This square tower was probably built by the Earl of Clanricarde (norman) in the late 16th century. It was held by the English for in the 17th, but restored to the family by 1662. At that point, the 6th Earl leased the lands and castle to the Blake family until the late 18th century, when it was sold for debts.

In 1947, the house was bought by Lady Leslie (a cousin of Churchill), who undertook restoration work with her husband. It was restored in the1960s as a residence and is still lived in by their daughter.
It is likely that an older castle stood here, which was incorporated into the current tower.
The main tower has a square staircase turret, There are four storeys, with the lowest floor having gunloops and the entrance on the east wall. s A low residence wing dates t the 17th century, but it was demolished when restoration work was undertaken in the last century