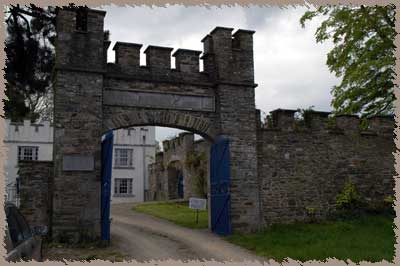 the castle-like main gate (really quite new) to the castle

Glin castle is a sprawling house that is currently used as a luxurious hotel - it was our "three weeks into the vacation we hate each other" stop. When we reach the point where we hate being in the same car, the same room with each other, we fine a fancy hotel and let someone else pamper us for awhile. Glin castle fit the bill.
The older part of the castle dates from the 1780s, but most of the present castle is a Georgian house decorated with 'castle' details, like crenelations.