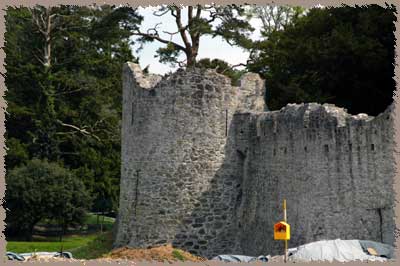 corner tower and ruined curtain wall

Adare Castle is currently under renovation by the Irish Board of Works, and the entire site is roped off from tourists. You can sidle your way across a narrow traffic overpass to get some decent pictures, but it wasn't possible to actually visit the castle. It lies on the far shore of the river Maigue in the village of Adare. The castle is listed as a national monument, but it is in 'dangerous condition'.
Adare is an Anglo-Norman castle, and is often noted as one fo the most impressive castles in Ireland. It is currently overgrown and quite ruinous. It is protected along the south side by the river Maigue, and on the west and northwest by a ditch just outside the walls. The towerhouse stands on a rise within the walls, which is likely the site of an earlier wooden fortress.
A castle is mentioned here from 1226, possibly built by Geoffrey de Marisco, although the castle is listed as a FitzGerald holding soon after. The Earls of Kildare held the castle for nearly three centuries, until 1536. At that time, it was forefeited and became a Desmond fortress. It was taken by the English in 1578 after an eleven-day siege. As is usual with such castles, it trades hands several more times and was besieged in 1579, 1581, and 1600. It was finally dismanted in 1657 by English troops.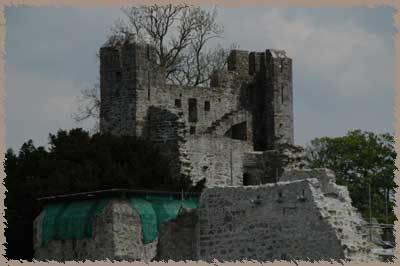 the tower stands to its full height, but is quite ruined
The original square tower and a d-shaped outer wall were probably begun as earily as 1190. The tower has projecting corner turrets, and had three stories over a basement (which was reached via a trapdoor on the first floor). The tower is 13m by 10.8m (ft x ft) and the walls are 2m thick. The extremely ruined early hall was built about a century later. A curtain wall was added c. 1240. It is approximately 1.6m thick. The main tower was extensively remodelled in the 15th century and was probably used thereafter as living quarters
. A Great Hall was built along the wall for other functions. It is roughly 22m x 10.5m, although nearly completely ruined. A number of lovely round-headed windows dating from the 13th c remain. A more recent hall was built along the river, where the foundations of a kitchen and bakery also remain.
page
[ 1 ] [ 2 ]