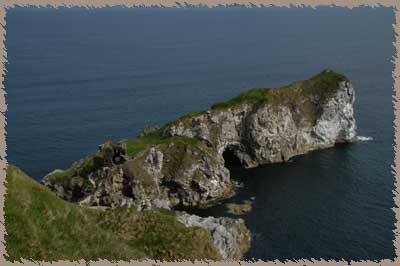 looking down on the castle from the hillside

This ruin is dangerous, the path down to the water has fallen and it's clearly signposted. Which of course meant that my husband vaulted over the fence and want down as far as he could to take pictures. Go figure.Climb down at your own risk.
Kinbane castle is in state care, It is also called Kenbane Castle, or Reuben's Castle.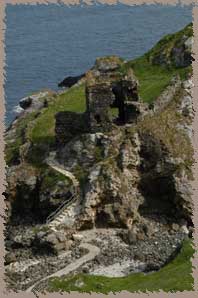 The tower was originally a very small 2-story tower, build in 1547 by the MacDonnells.(Likely by one of the brothers of Sorley Boy MacDonnell) There is a large courtyard behind the walls. The promontory itself is a thin limestone outcropping, which end in 100 foot cliffs. There is an arched passage through the promontory about halfway out (you can see if in the first picture).
THe castle was partially destroyed by cannon fire in 1555, by the English, of course. WIthout cannon, it was nearly impossible to attack the castle - the high cliffs and walls were stout protection. It was repaired and was occupied again by the MacDonnels, who eventually gave it to the MacAlisters, for their service. The MacAlister family may have occupied the castle into the late 18th century.
In contrast to the lighter sandstone, the castle is built of dark basalt. The tower is a single room over a basement, with faint remains of gables over the east and west. The bawn is irregular and follows the shape of the promontory. In some places, only a short wall was needed, since the drop into the sea is precipitous.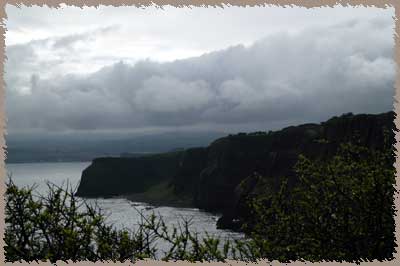 looking up the antrim coastline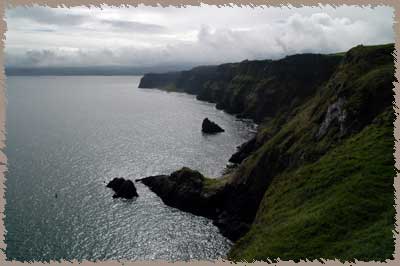 stunning coastline