the tower house and jacobean additions

Donegal castle (in the middle of the town) has been recently lrestored.The main tower house is finished and plastered and partially furnished, although the shell of the house attached to it is in ruins.
The tower here is likely built on the site of Viking fortress built here in 1159, althought he current tower is 15th century stronghold of the O'Donnell family, and development over the years has obliterated most of the earlier buildings on the site. The surrounding wall is 17thc entury, as is the townhouse ruin.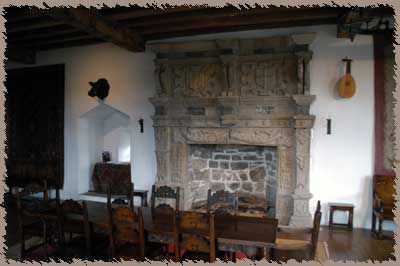 the main hall with enormous, decorated fireplace
The first stone castle here was built by Hugh O'Donnell in 1474. He is also responsible for the abbey that is built just down the river (a rumored tunnell between the two has never been found). The castle was abandoned after the flight of the earls and eventually granted to an English captain in 1611. He received the castle in disrepair, as the departing family had damaged it to prevent it being used against the Irish. The captain, Brooke, rebuilt the castle and aded the current windows. At the same time, he added a gable and turned the castle into a Jacobean manor house, with all the trimmings. His family remained in the castle until the 18th century after which it remained uninhaibted and ruined until passed to the state in 1898.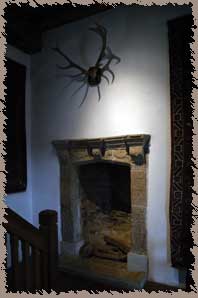 one of the mutli-light windows / yet another fireplace and plastered wall
Restoration was not begun until the 1990s