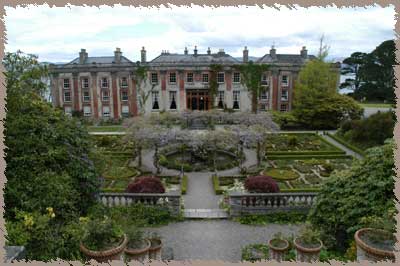 slightly closer view of the circle and house from the hundred stairs

The second earl of Bantry was a wide-travelled man, and often brought back art and artefacts to his family home (which at the time ws a small victorian house-- Abusson rugs, tiles brought from Pompeii that are currently on the porch floor, tapestries, fireplaces, chandeliers. THe house is full of antiques and exoticly decorated rooms with a Spanish, Tibeten, or Turkish style.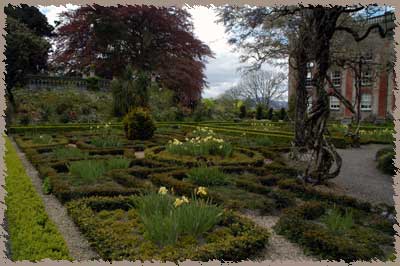 carefully laid-out garden beds and borders
The gardens sweep up from the back of the house, rising over the hill and beyond. CLose to the house are carefully manicured herb and perennial gardens (unfrotunately, not much was in bloom when we arrived) surrounded by gravel paths and neatly manicured borders. I can only imagine the fleet of gardeners it taeks to keep this all in check.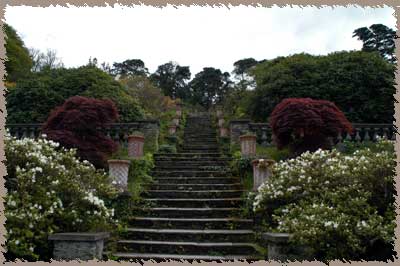 looking up the Hundred Stairs from the garden
Behind the house rises a steep staircase (the "stairway to heaven" that leads to a broad walkway overlooking the house and garden (the pitures of the house with teh bay in the background are taken from up here). It looks rather wild and overgrown, but there is actually a lot of planning and seriously detailed layout to get it to look like this. It is a far cry from the impeccable, neat, English-style gardens at Powerscourt.
page
[ 1 ] [ 2 ] [ 3 ] [ 4 ] [ 5 ]