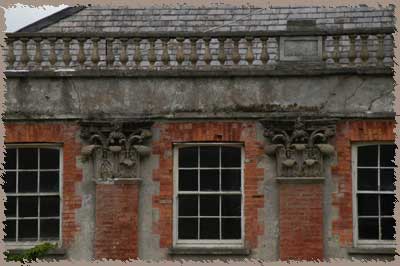 brick and stone, and wild corinthian capitals on the house


Details on the building include a brick facade and ornate concrete and stone ornaments.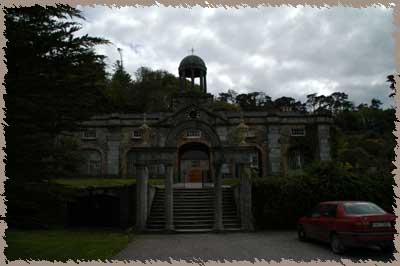 a 19th century folly leading to the garden terraces
The gardens have a lot of "English" and Continental style decorations, and seem very, very Victorian. Elaborate gates (almost like small follies) lead from one level of terracing to another, and big statues and enormous planted pots dot every horizontal surface. From almost-wild tropical rain-forest to elegant, manicured lawns and little garden plots.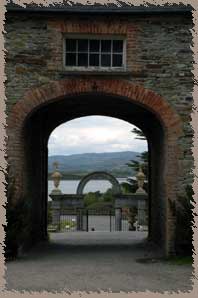 Gateway of the stable block, looking to the bay
One of the interesting things at Bantry house is the 1796 French Armada Exhibition Center in one of the stable blocks. Bantry Bay is a calm harbor, and invasion attempts were common, especially from the French (who attempted invasion in 1689 and failed). But, in 1796, there was another attempt by the French fleet along with Wolfe Tone (a revolutionary leader), in an attempt to overthrow the British.
Nearly the entire fleet was destroyed by storms, leaving only 16 ships remaining, and even those were unable to actually make land in the choppy seas. They turned back. One of the shipts, the Surveillante, was scuttled in the bay.
The display is quite interesting and very well done, although a bit cheesy with voice-vers and sound effects in some places.