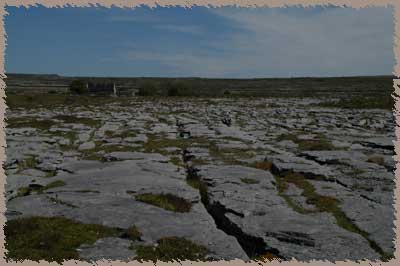 the bizarre moonscape of the burren in Cº Clare

The Burren is one of the strangest sights in Ireland -- suddenly, the lush, green, Emerald Isle suddenly looks like a bizarre moonscape. Flat sheets of weirdly cracked rocks cover the landscape, no trees, no lakes...just this strange, dead-looking expanse of rock. The Burren covers a hundred square miles in Clare. It's a huge plateau of limestone and shale -- a stark environment that still supports a myriad tiny wildflowers and orchids (by the way, don't pick any flowers!). There are no real lakes, and most rivers are underground waterways that only spill to the surface after a rain.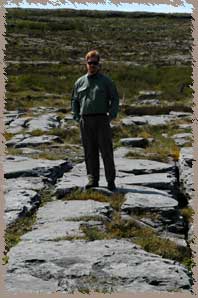 Mark standing on the weird burren stones
No one really lives here anymore, although there were once some small villages. The biggest draw here (well, in addition to the fascinating landscape) are over 60 Stone Age burials, mostly wedge tombs and dolmens.
There are over four hundred ring forts in the Burren. Ring Forts were built from 500 BCE - 500 CE, and were defensive dwellings. Some are small enough that a single family would have lived in them, others are large enough for many smaller houses inside and room for animals, as well. Some of them are in amazing condition, others are bare circles of stone foundations.
The Burren can be crossed on foot, and there is a mapped Burren Way across the expanse. It's about 22 miles long, and ther eare B&Bs along the way.
We drove around the edges of the Burren and crossed only a small portion of it/ It really is weird.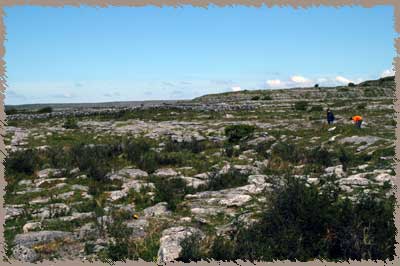 one hundred square miles of strange rock formations
page
[ 1 ] [ 2 ]