Restored barley store at Bushmills Distillery, Antrim
Just beyond the Giant's Causeway is the own of Bushmills, which is famous for the distillery here. There has been a distillery here making legal whisky since 1608 (and presumably illegal whisky before that?). Bushmills is the oldest continuously operating distillery in the world. The process is much like any other large-scale industrial process -- there's very little romance in the making of whisky here -- but it's fascinating nonetheless.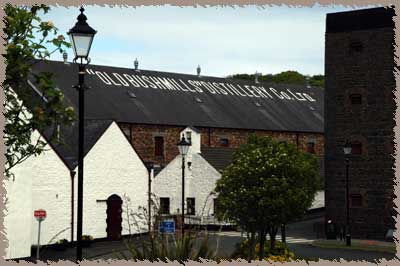 view into the older part of the distillery
Unlike the smaller Midleton Distillery, Bushmills is an enormous, modern complex, although the site is dotted with older buildings that have been restored. Most of the Irish whisky produced is made in the new modern distillery near Midleton. Irish whisky is different than Scotch whiskey (and the difference is more than the 'e'!). First, Irish whisky does not use peat smoke when they roast their malted barley, and Irish whisky is distlled three times, not just two. I've outlined the process in the Midleton page.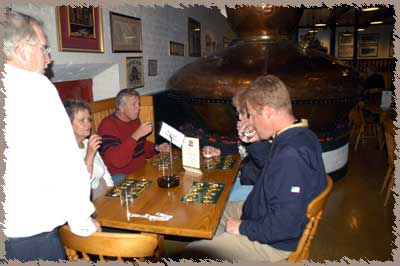 Mark invovled in the whisky-tasting process after the tour
And, once again -- at the endof the tour (after they show you the enormous warehouse), the guide will ask for volunteers (two women and two men). Jump to the front -- you get to taste ten different whisky varieties, including the very, very nice blue label and reserve bottles.