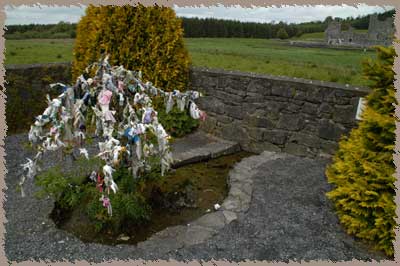 The Water that Will Not Boil -- and a decorated tree

The Tree that Won't Burn and the Water that Won't Boil are both along the same path, and frankly, I wonder if anyone has tested these in a while! The tree is pierced all over with coins stuck int eh bark, and bits and pieces of junk ties to it's mostly bare branches. That is a modern practice, but we joined in just the same.

one of the gates to the Abbey
The Mill without a Race (race being the stream that leads through the mill to turn the wheel -- usually a fairly fast running one, at that) is just a bare foundation of a millhouse. The water spills up from an underground stream just where the mill is built, and then disappears again underground. I decided that was pretty convenient, and we had a good laugh over it.

All that remains of the Mill Without a Trace