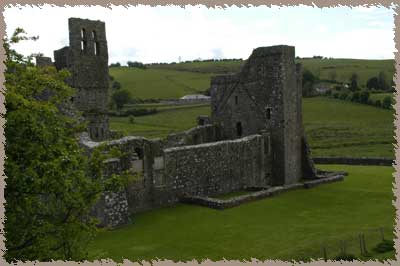 The ruined Abbey Built on a Bog

The priory is the most noticeable ruin of the group. It is built on low-lying bog land (and as a result, it is none too stable). It has stood since its founding c 1200 by the de Lacy family, as a Benedictine priory. Not much remains, although the well-manicured grounds surround the walls of the main church, the tower, and a tiny fragment of the cloister walk.

just a few remains of the cloister walk in Fore Abbey
The priory was turned into a fortified monastery in the fifteenth century (along with many other churches), so there are living quarters in the tower. Supposedly it's possible to climg the spiral staircase in the tower, but it was blocked off during our visit. There is a lovely dovecote up on the hill overlooking the priory, and a bit further on is one of the entrance gates.

Fore Abbey was fortified later in its life