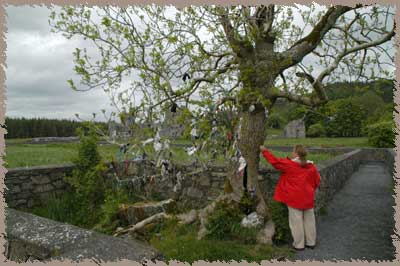 putting coins in the Tree that Will Not Burn

One of the most amusing days in Ireland was our quest to see the Seven Wonders of Fore. Fore is a tiny little town near Castlepollard. It has the ruins of an abbey just off the main road, but the big draw is are the Seven wonders -- which are a fun collection of weird folktales and word-play. The wonders are supposed miracles performed by St. Fechin.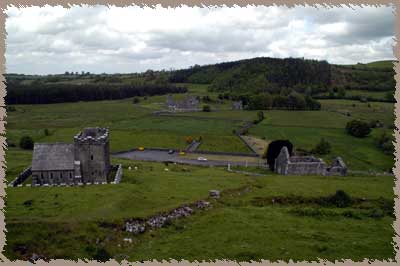 Looking down on the Wonders of Fore
There is a wealth of great hking trails around the valley (indeed, one of the wonders -- the Water that Runs Uphill -- is a goodly hike over the hill and through the woods. All of the wonders are fairly normal things, but the power of folklore is that people continue to embellish things.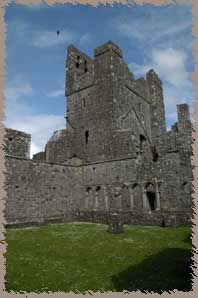 The Seven Wonders are:
The Water that Will Not Boil
The Wood that Will Not Burn
The Monastery Built on a Bog
The Mill Without a Trace
The Lintel Stone No Man Could Lift
The Water that Runs Uphill
The Anchorite in a Cell
If you ask me, they're stretching thigns a bit for that Seventh wonder, but it's all in fun now. The "wonders are clustered along the road just outside of town -- you can refresh yourself in one of the pubs in town and then head out to walk around the wonders themselves.