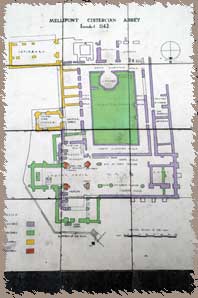 Many monasteries have fairly obvious structures, but Mellifont has only rough foundations that have been excavated, and a few short walls. The outlines of most buildings have been reconstructed, but nothing remains of the church and tower (which most certainly would have been in place, even though the initial rules of the Cistercian order prohibited stone towers!).
The few walls that remain of the church are not original -- they are from the 13th century, although the foundation was probably reused. The church was predictably cruciform, with five chapels in the transepct which can be seen in outline.
Not much is left of the chancel except foundations and the markers for a number of burials that were made right in front of the altar. The rest of the church is a series of stumps where the columns exist, but it does lead down to the river bank, where there is an unusual little room is foud under the walls. There is a small window and a little niche for storage, so this room was probably used for something, although it was obviously designed to fill the space needed to keep the walls level.

series of foundations for the domestic buildings
The chapter house remains as a ruined square. It once had a lovely romanesque doorway, which was removed. The original building was quite grant, and later remodeling added delicate windows to the exterior. Six different styles of floor tiles were found during the excavation of the chapter house -- four with floral and foliage patterns, and two with animals. Similar tiles are also found in Christchurch Cathedral in Dublin, and they showed up here earily in the 13th century.

view into the church
It is the lavabo that gets most of the attention here, though. It was added in the 13th century as a place to wash before entering the refectory. Lead pipes brought water to the fountain inside (which no longer exists). A few pieces that may have been the fountain are in display in the VIsitor Center.