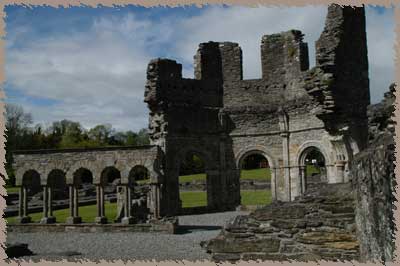 the remains of the 13th century lavabo at Mellifont Abbey

There are a number of unique features at Mellifont Abbey -- it is noted for the ornate lavabo (basically a public fountain for washing(laving) before church) and the size and extent of the ruins. It was the first Cisterian abbey in Ireland, founded in 1142 under the auspice of the abbey of Clairvaux in france. The abbey here was founded by the Bishop of Down, who decided to join the Cistercian order after seeing the abbey at Clairvaux. The pope denied his request to become a monk (I'm not sure why changing from priest to monk was problematic, but there you go.) Despite this, he built the abbey on land granted to him by the Kind of Oriel. The monastery hosted a major synod (religous council) in 1152. The church was finished and consecreated in 1153, in a ceremony that rated seventeen bishops and the King of Ireland as attendees.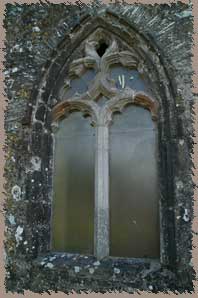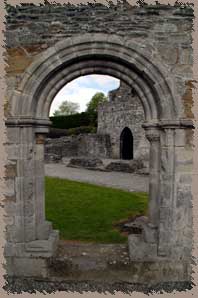 tracery windows in the chapter house / a round-headed arch in the wall
One of his followers, Gilla Crist O'Connairche, was installed as abbot and in 1142 they settled in the abbey along with a number of French monks. The gray and rainy weather of Ireland did not agree with the French, and they returned to Clairvaux after only a few years. Their relationship with Clairvaux was strained after that -- in 1216, hearing reports of problems at Mellifont, the mother house send inspectors. When they arrived, the monks had barred tha gates. The discontent of the Irish monks at the intrusion of the French was not limited to Mellifont, and other abbeys responded with riots when the emissaries arrived.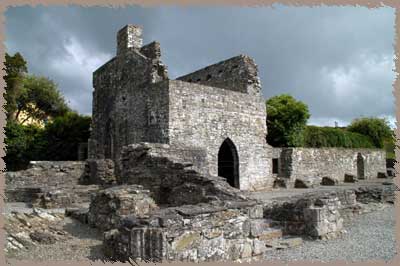 the fortified chapter house
This whole hoo-ha was called the 'Conspiracy of Mellifont', although there is little evidence that it was an organized revolt. THe abbey of Mellifont was deposed in 1217 as a result, and the Cistercian order instaleld an Anglo-Norman abbot who was bitterly resented and opposed by the Irish. Eventually, other mother houses were assigned to the abbeys under Mellifont, and more Anglo-Normans were installed. The irish were eventually prohibted from entering houses iin England and France, and no Irish monks remained in the Cistercian houses in Ireland.