However, t he importane of the abbey was notable. Four of the five provincial kings were patrons of the foundation, and within ten years had spawned six "daughter" abbeys (Bective, Boyle, Monasterenenagh, Baltinglass, Shrule, and Newry). By 1170 there were over 400 inhabitants of the abbey.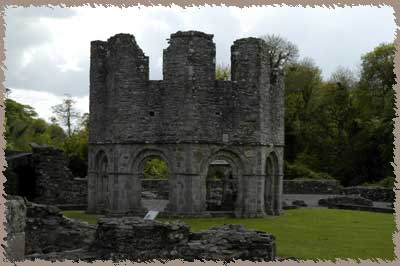 another view of the lavabo in the couryard

Of course, the abbey declined in later years. By 1228, ther were only thirty or so residents. By the fifteenth century, the abbey lands were being leased out. Still, at the time of the Dissolution, Mellifont was the second-richest CIcstercian abbey in Ireland. In 1539 the abbey was surrendered to King Henry VIII, who took all the treasures -- and records -- from the grounds. Reports at the time noted that most of the abbey was in ruins.
A fortified house was added to the monastery grounds in the sixteenth century by Edward Moore Most of the stone used in construction was taken from the monastery. It too was allowed to fall to ruin by the 18th century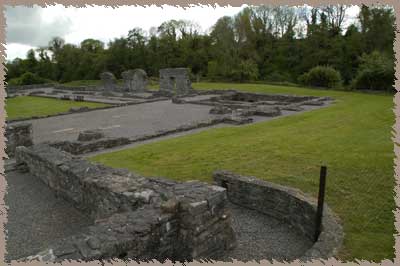 only foundations of the outbuildings remain .
But the Cistercians returned to Ireland in 1831, and managed to repurchase the lands of Mellifont abbey (then part of the Oriel estate) and founded a new abbey on the grounds. New Mellifont is a thriving community.
All that remains of the monastery is the lavabo, the chapter house, and the much-later gatehouse. The rest of the site is mostly foundations (which are still being excavated). The lavabo is just a shell now, but it was probably added as a sign of how prosperous the abbey was (certainly, other abbeys do not have one of these buildings in the cloister courtyard. There is a small section of the cloister walk that has been reconstructed, but the romanesque columns were pieced together from thousands of shards of rubble.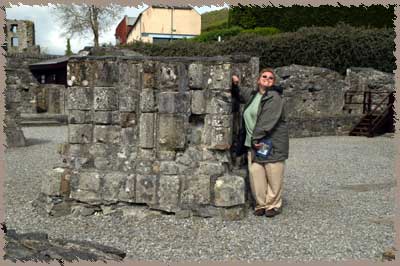 standing next to the ornate column piers