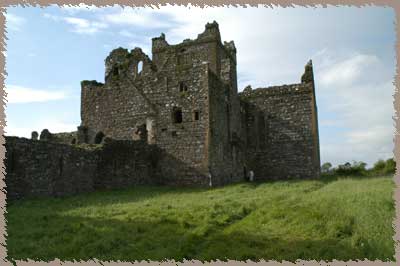 the church at Dunbrody Abbey

Dunbrody is a Cistercian abbey, founded in 1182 under the auspices of St. Mary's in Dublin. THe land was granted to the Cistercians by Herve de Montmorecy in around 1171. He was one of the supporters of Strongbow and a powerful lord in Leinster. Even though the land was granted a decade earlier, work did not begin on any buildings until 1182, when the abbot of St. Mary's in Dublin was given control of the grant. The abbey was confirmed by Pop Lucius III and populated by an abbot (John O'Heyne) and a dozen monks.
It was another decade before the stone church was begun. It has always been a poor monastery, despite being very large in size. The church is one of the largest Cistercian churches in Ireland (59m long) It was often attacked by local warlords, and was dissolved in 1536.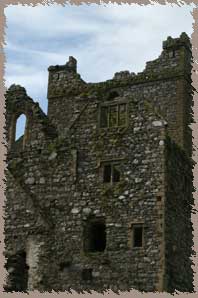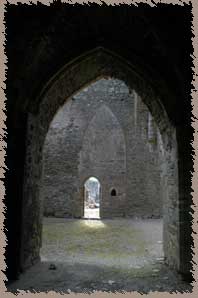 the central tower / through the main entrance of the church
The ruins are dominated by a large cruciform church with a central tower (added in the 15th century). There are three chapels i each of the transepts. Most of the arched arcades are blocked, and the north range is quite destroyed. The east window remains intact, and is one of the best features int he ruined building. Most of the domestic buildingas and the cloister are nothing by faint foundation stones. A staircase in the south wall led to the monks' domintories, and is still accessible.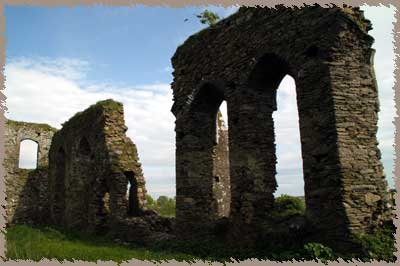 remains of the north wall