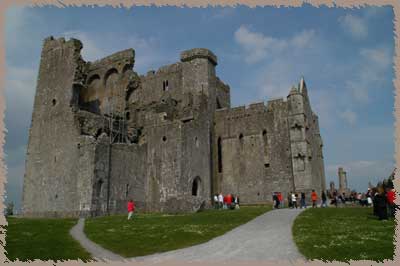 the massive cathedral on thr Rock of Cashel

The Rock of Cashel is one of the strangest sights: come over the gently hill of rich, green farmland and there is suddenly an outcropping of rock in the distance, bright and hazy, with what looks like a fairy-castle on it. It's quite unreal.
Because of the enormous military advantage of having a stark cliff of stone rising above the plains, there has been a fortification of sorts on this hilltop since at least the 4th century, when the kings of Munster settled here. St. Patrick made the church here a bishopric (one of the bishops here attempted to take the throne of High King and was kileld in battle in 908. It has also been a site of high drama: Brian Boru was crowned here in 977 and he made Cashel his capital.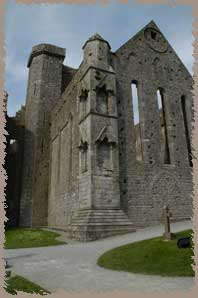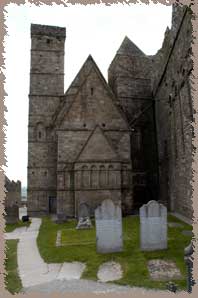 corner tower of the cathedral / back end of the chapel
Cashel was granted to the church in 1101 and Cormac's chapel was built on the site in 1127. The main cathedral was founded here in 1169. The current cathedral dates from eh 13th century. It was burnt in the 15th century by Gerald Fitzgerald, but subsequently repaired. By the 18th century, it was ruinous.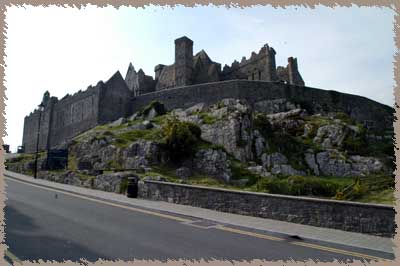 walking up the road to the Rock of Cashel
There are a number of buildings here, including the Vicar's hall (where the entrance is), the great cathedral, and Cormac's chapel. The Vicar's house contains the original St. Patrick's cross (a replica stands outside in the original location).