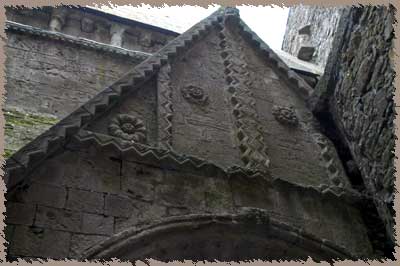 the richly decorated outer wall of Cormac's chapel, Cashel

Cormac's Chapel is probably the oldest Romanesque church in Ireland, and was built between 1127 and 1134. It may have been influenced by German architecture and is similiar to other English romanesque buildings. INside, the chancel contains the only remaining frescos from this period, which remain colorful today. It has a nave and chancel with blind arcades on the walls and the ceiling is barrell-vaulted. The roof is stone. The whole church is decorated, and the tomb (12th century) in the church is decorated wit interlocking serpents, a very strong Scandinavian motif. It was moved here in the 13th century.
ON the outside of the chapel are some interesting details, including string courses, blind arcading and many carvings of heads and figures. THe arched doors have three orders (layers). The original door is on the north, but this was blocked in by the building of the cathedral chapels. Two towers on the chapel are reached by spiral stairs.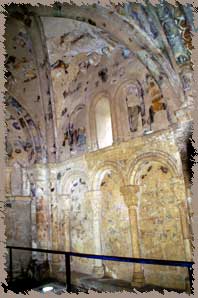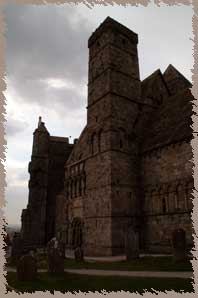 faint traces of original medieval painting / one of the corner towers
The chancel of the little church is off-center, with the chancel arch towards the southern wall of the churhc. THe second order of the arch has stone heads on it, and much of the original decorative painwork remains on the other orders.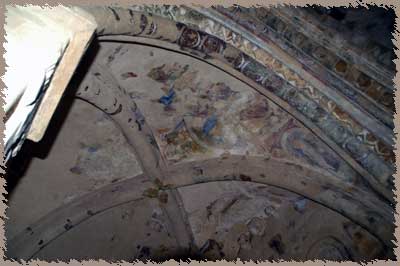 remains of the medieval frescos on the ceiling, recently restored