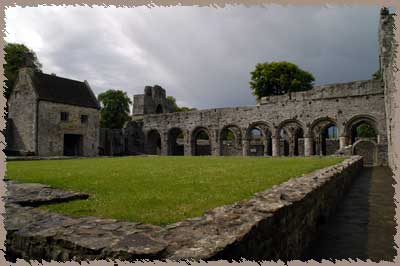 from the corner of the yard; the gatehouse and south aisle

I tend to love the different styles of cloister walks in each abbey, but there is nothing left of the cloister here except an outline of the walking path. It was demolished when the military occupied the abbey and many of the domestic buildings were turned into barracks. The Abbey was known as Boyle Castle for a period ot rime, when under King John's rule it was militarized and held as a fortified house. In fact, several doorways were blocked up and only the lower blocks of the doorways remain. There are five "layers" (called orders)of oe of the Romanesque doorways that has been filled in. Tis probably led to a parlor or visiting room.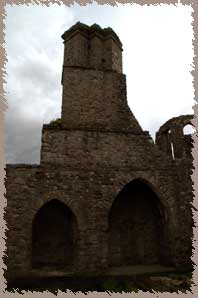 the normous kitchen chimney / leaning round piers of the church aisle
THe most noticeable thing in the square of domestic buildings is the enormous chimney and ovens of the kitchen. They were added later (probably the 17th century) and stand next to a round tower which was added during the military occupation. Nothing really remains of the outer buildings, except a bit of the gatehouse and the foundation of the refectory.
Boyle was listed as one of the richest abbeys in Ireland, which made it a prime target for pillaging and looting. During the reign of Queen Elizabeth the abbey was suppressed and its lands and possessions handed over (1569) to Patrick Cusack of Gerrardston, County Meath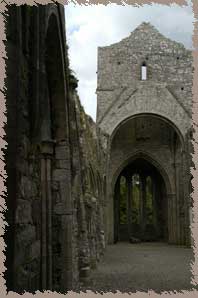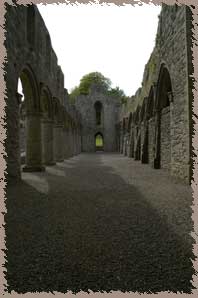 to the tower from the back of the church / the church from the tower