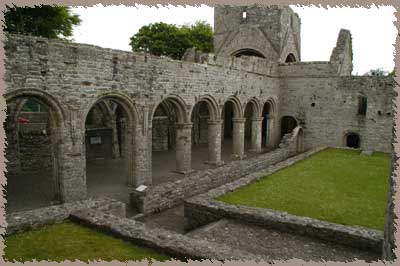 south aisle of the church, from the cloister walk

Boyle Abbey was founded in 1148, associated with the mother house at Mellifont. The house may have been founded under the patronage of the MacDermot family. The monk came here from Grellechdinach. The site here may have been occupied by an earlier monastery called Ath-da-Larc, but it was already gone by the time the Mellifont monks arrive.
The abbey was sacked in 1202 by de Burgo, completely burned and partially destroyed, and the main church wsa not finished until after this time. The main buildings span the Romanesque and Gothic styles. Changes to the style of buildings were common, as they were often enlarged and changed during their long life. Here, it can be seen in the styles of arches, windows, doorwarys, and even in the decoration of the walls and graves. A multi-level Romaneque doorway lies on the same wall as pointed Gothic arches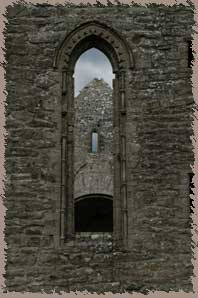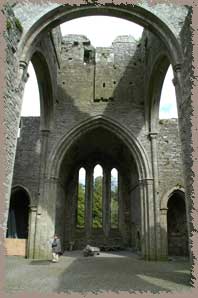 a narrow arched window / the crossing and the tower
Cicstercian abbeys are built according to a standard plan, with the main buidings arranged around the cloister garth. The gate house is to the west. It was built for defense, as was the tall tower at the crossing of of the church. The gatehouse has been restored completely, and is a fine slate-roofed building. Boyle Abbey was occupied by the military, who cobbled the cloister garth -- many of the rounded cobblestones remain under the grass and are being slowly excavated.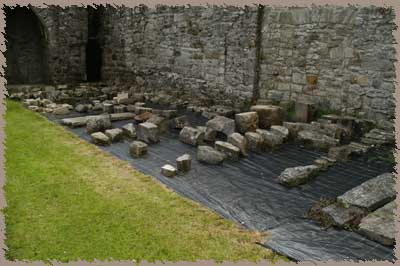 cobblestones dug up from the courtyard and extra bits
The church has been restored somewhat, and it's easy to see the cross-shape. The chancel is small and has no aisles. The north and south transepts each have two chapels. The chancel and chapels were built almost immediately, as soon as monks arrived in 1161. The long nave had an aisle on each side. The walls are mostly gone, bt the foundations remain enough to trace the shapes of the buidings here. The arches along the nave change shape and design -- those on the north are pointed, those on the south are rounded, and the decoratons of the pillars between changes from one arch to the next. It is obvious that the walls were built over many years and by many different hands. The church was consecrated in 1218, but was not finished at that time.