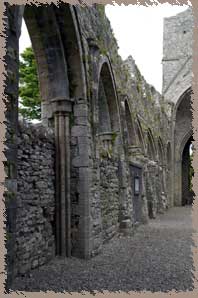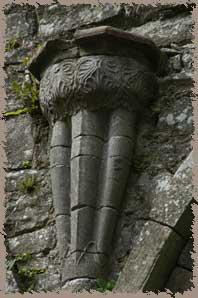 the slightly leaning north aisle wall / arch supports near the tower
The arches on the east are the oldest: the supports are round and have octagonal capitals. THe opposite arches have square piers and columns. THe supporting arches are decorated with animals, knights, kings,

fanciful shapes, and other patterns. These are from the 'School of the West' style, and match those from the west of England and fro the abbeys in Cong and, surprisingly, at the castle in Athenry. The guide from Duchas notes that the abundance of decoration and the style of it suggests that the concept of austerity and monkish ascetisim was beginning to fail at Boyle Abbey fairly early on.
In the western wall, the arches are more similar., alhtough half are rounded and half ar pointed. This seems odd, as it was likely they were fnished at the same time, all after the main aisle of the church. If the later arches there are rounded, shouldn't all the arches here, in the later section, be rounded?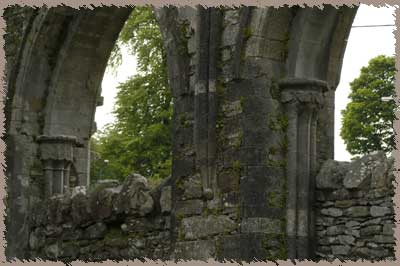 the north wall has been filled in with stone
The east wall has three lancet windows, but these were added in the 13th century. The original windows probably looked like those in the north wall.
The tower does not look like it was an add-on; probably it was designed into the abbey from the beginning. This is strange, since up until the 15th century, towers and bells were considered an unnecessary luxury and were actually forbidden by Cistercian rules. But, like the abundance of decoration and 'niceties", this may indicate that Boyle Abbey was less rigid than other Cistercian abbeys. The tower is well preserved, standing to over 60 feet.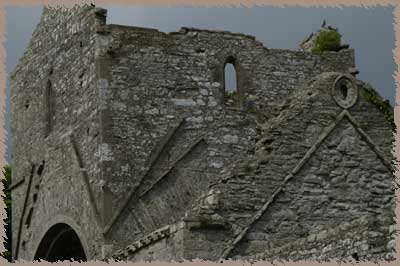 the tower has the outlines of many roof lines, from many rebuildings