Excavations of the Roman Road, page 2
The houses along these streets are pretty easy to make out -- they are small, wit a few rooms and front directly onto the street. They are surprisingly like the houses we saw in the Valley of the Artists in Luxor -- these are small, modest houses (and the Villa of the Birds nearby is a nicer model, I think -- with a small public bathhouse of brick to the north.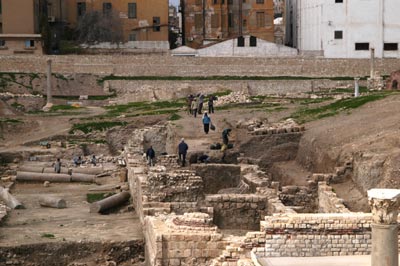 foundations of the houses lining the wide, curving street
The walls surround the amphitheater, too -- the striped effect from stone laid with brick courses between. Our guide told us that it was to add "flexibility" to the walls, as the brick would expand and contract with heat and moisture, and flex a little during earthquakes (which are surprisingly common here) and allow the walls to stand.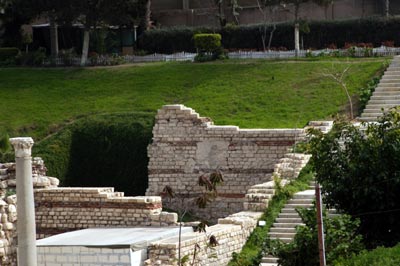 beautiful examples of opus mixtum around the theatre