Alexandria
The of Alexandria was indeed founded by Alexander the Great in 332 BC. He had conquered Egypt and constructed a capital city along the coast. It was the first egyptian city built on the Greek model, with a major north-south road and east-west road, and the rest of the city designed in a series of grids around them, like a modern city.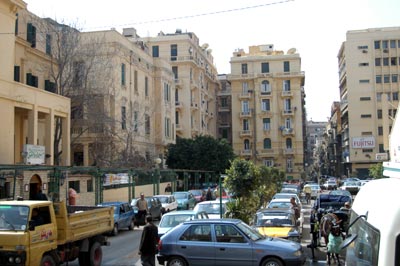 The city had two huge harbors and was dominated by the Pharos lighthouse (now the site of the Fort of Qaitbay). Alexandria was a major seaport.
Of course, Alexander never actually saw the city. He died eight years later (probably poisoned) and was shipped to Alexandria for burial. His tomb has not been found. The city was divided amongst his general at his death, and founded the Ptolemaic dynasty.

Legend has it that the gospel was first preached by Saint Mark in 62 CE in Alexandria, and by that time, Christianity was well established in the city. THey later moved the center of coptic christianity to the Old City of Cairo and the city became irrefutably muslim in culture. Jews had a strong presence in the early city, but there are only a few Jews remaining in Alexandria.
The city itself is thin -- 20km long along the harbor, but only a few km wide. About 75% of the trade to Egypt goes through the port here, which has 62 quays and a huge container ship area. It is worth a wander, if you are interested in that sort of thing.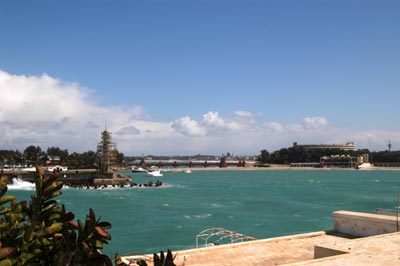 There are many things to see in Alexandria, most from the prosperous Greco-ROman period -- a restored amphitheater in a few square acres with an excavation of a Roman road and Roman baths. There are many underground tombs in the Catacombs of Shouqafa and the Anfushi tombs -- empty of course, but worth an eerie visit. Pompey's Pillar stands on a limestone rise in the middle of the city. THere is a fine Greco-Roman museum and even a Jewelry Museum. On one end of the city lies the beautiful Montazah gardens.
We spent half a day wandering around the major sites in Alexandria with our very vivacious guide, then spend the afternoon in the gardens near our hotel. We didn't come to Alexandria until near the end of our time in Egypt -- we were more prone to nap on a rainy afternoon (and it did rain almost constantly while we were in Alex) than foray out into the city. The next morning we spent the morning at the unbelievable Bibliotheca Alexandrina before driving back to Cairo and heading home.