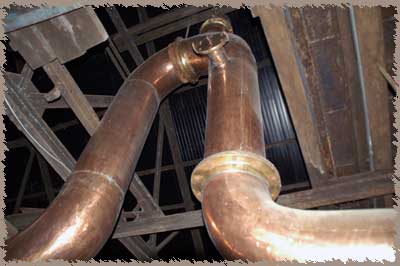 one of the many copper pipes used in distillation

After distillation, it is still not whiskey. It has no aroma, and virtually no color. Not until it's aged in oak barrels does it even being to be Irish whiskey. Midleton used (and the new distillery uses) oak barrels from Portugal, Spain, and America that were used to mature sherry, port, or bourbon. No "new" barrels are used, and the type of barrel used for aging will control the whiskey that results. The whiskey matures for 5-7 years (or up to 25). The Midleton Very Rare and Jameson Distillery Reserve age for 12 years in barrels before bottling.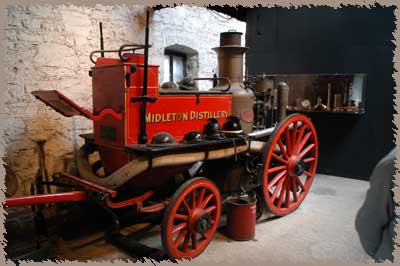 the original horse-drawn fire carriage
Mark is always thrilled to find old fire equipment. For many years, the only fire support at the distillery was this horse-drawn fire wagon, which has been restored and is part of the exhibit. As I noted, about the time you start seeing these, and head into the "storage room" where they show you aging barrels -- leap to the front of the group. In the tasting room (which very helpfully dumps you out into the shop afterwards), you can be chosen to be a taster -- and taste American boubron, blended whisky, Scotch, and six kinds of whiskey that were produced here at Midleton. Only a sip or two, but it's an interseting comparison. There's also a nice, if expensive, restaurant for lunch. We met a military couple from Germany and had a very nice lunch with them.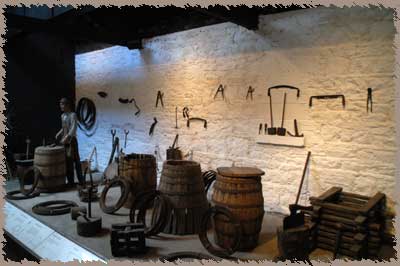 display of some of the cooperage's tools (barrel making)