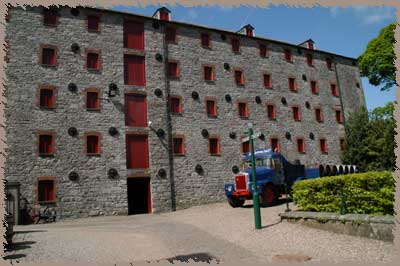 The New Grain storehouse

The barley was originally brought by horse and cart, and stored in the enormous storage building. Since any grain produces a tremendous amount of dust (which is very flammable -- possibly explosive), the building has dozens of windows. Half of the buildings on the site were storage buildings. The black circles in the picture above are tie bars -- common in brick or stone buildings, these are the ends of long bars that span the entire width of the building and basically hold the walls together. WIthout them, the walls would bow out under the weight of the stored grain inside.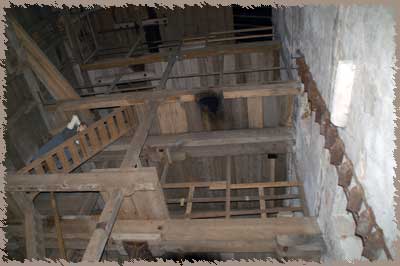 stairs inside the storehouse
The new grain store was the tallest building, and workmen carried the 220 pound sacks of barley up the stairs SInce the whole site has been redone as a tourist attraction, they have included some plaster people as examples of what might be going on in the mill. There is a freaky plaster guy on the stairs here, carrying a load of barley. . The barley is soaked in water for a few days to sprout, then dried in a huge kiln and then stored in these enormous buildings.
The barley and malted barley is then ground down to 'grist' by the huge waterwheel. The 22' wheel was the primary source of power until the distillery closed. THere was a backup engine, of course,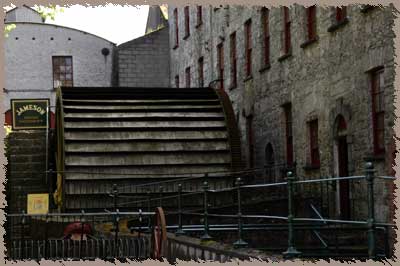 The waterwheel outside the grain mill