Teampall Ciaran, eith a precariously leaning wall

Ciarans church is in ruins. Local folklore said that taking dirt from his church and sprinkling it in the corners of your field would give you a good crop. Over the years, many people have done this. The wall with the window is leaning precariously.

the two round towers, from the graveyard
The little church with the complete round tower is Temel Finghin, a little romanesque church that dates from aounf 1160-70. The tower is attached to the building, and is one of the best preserved round towers in Ireland. It is incorporated into the walls of the complex. The other round tower is less well-preserved and stands along further to the west.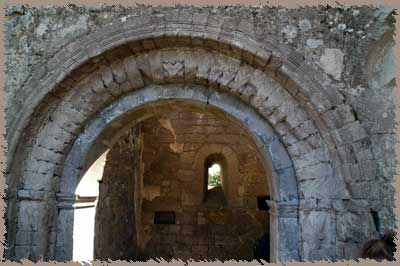 lovely decorated doorway