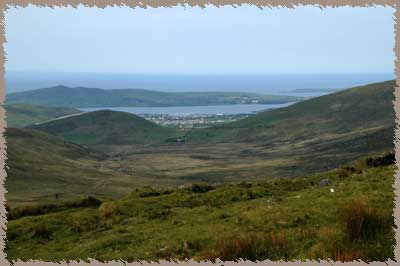 view down from the parking area at Conor Pass
The Dingle peninsula is full of gorgeous drives -- pick a direction and just head off and you'll be rewarded by stunning views over the mountains. The two mountains here are separated by Conor Pass. There are some great hiking paths around Dingle and there are dozens of early Celtic church ruins.
The pass is 1496 feet high, between Mount Brandon. There is a parking area at the top, which can be pretty crowded. When we passed through, it was mostly populated by apparently psychotic bike riders who had pedalled all the way up here and were near death. I imagine that the ride back down the pass would be more on the exciting side. The road hairpins wildly, and careening down on a bicycle would be scary.
page
[ 1 ] [ 2 ]