looking up the hill at Temple Melaghlin and Temple Ciaran

Clonmacnoise (clon-mac-nish) is an enormous array of medieval ruins and even earlier celtic crosses and oratories. The monastery was founded by St. Ciaran in 548 and it flourished as a center of learning for nearly a millenia. It counted as its patrons many Irish kings, including several who are buried here. It was once an enormous settlement -- in 1179, over a hundred houses were destroyed when the Anglo-Normans attacked. Only after looting and sacking by Danes and Anglo-Normans, did the complex fall from favor. It was abandoned in 1552. Ciaran did not see his monastery flourish -- he died at the age of 33 only four years after founding Clonmacnoise.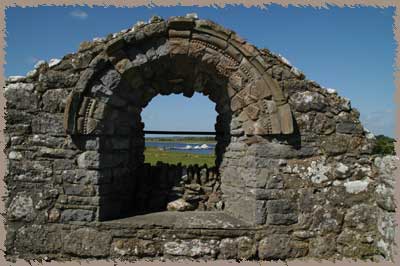 the arched window of Teampall Connor
There is a cathedral here, no less than eight churches, two round towers (including one kind of weeny one), and three high crosses. The whole area is a current burial ground, and there are many stones dating back several hundred years. The visitors center contains the original crosses (those outside are reproductions, albeit very good ones). I find the crosses interesting, but only know enough about them to know that they usually contain biblican stories (espeically good vs evil), but at least one here contains non-bliblical scenes. The visitor's center is well worth the visit to see the details and "translations" of the crosses.

Temple Finghin and intact round tower / the Cross of the Scriptures
There are two round towers on the grounds. The Macarthy Tower still retains the original conical top -- most of the towers we've seen elsewhere are missing not only the roof, but a few feet off the top. The other tower on the site , O'Rourke's Tower, is roofless, but it is unique in that it has eight windows at the top insteadf the usual four.