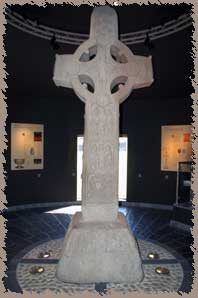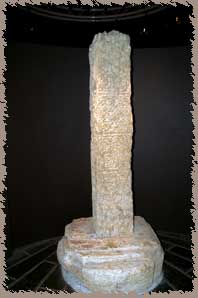 original cross / stub of the north cross

There are three crosses on the site (well, reproductions) on the site. The Cross of the Scritpures is one of the finest crosses in existance. It's 13' high and is divided into panels of the Crucifixion, Last Judgement and CHrist in the Tomb. However, this cross also contains a panel that is certainly not biblical in origin, although no one really agrees what it is. It may be Abbot Colman and King Flann, who built the cathedral

Temple Hurpan, with odd, boxlike addition. O'Roarke's tower in the background
A number of churches dot the site, some in better repair than others. They date from the 10th to the 17th centuries. It's easy to imagine that this was a thriving town within the walls, even though the site is not actually that large. ALl the houses and shops were wood structures, of course, and nothing remains except for a few postholes and that sort of thing. The stone churches are replacements of timber churches, and were most likely built int he 10th century. In addition to the wall surrounding the complex, there would have been a ditch and embankment for protection. The South Cross is about 12' tall and is decorated with mostly abstract designs, and may date from the 9th century. Finally, the North Cross is mostly destroyed, with only the shaft remaining, decorated with abastract designs. It is similiar to the style of the Book of Kells and dates to c 800.

Up the hill toward sthe cathedral, under construction
Other churches include the Temple Dowling and Temple Hurpan (which are connected), which were reroofed in 1689 and used for services for many years. The smaller building was added in 1700. Close by is Temple Melaghlin, which was built in 1200. The tiny remains nearby is Temple Ciaran. It's only about 12 feet by 10 feet or so, and was one of the older sites in the complex.