married officers quarters and dormitories

Officers had much nicer quarters, of course -- the idea of class differences being a bad thing was not a big problem. These nicer quarters faced the parade ground (a nice green area). These buildings are roofless, and there is quite a lot of wooden props and scaffolding holding the walls up. Many of them were burned. Most of the buildings here would be familiar to any soldier or student -- a central stairwall surrounded by rooms, then another stairway, more rooms, etc.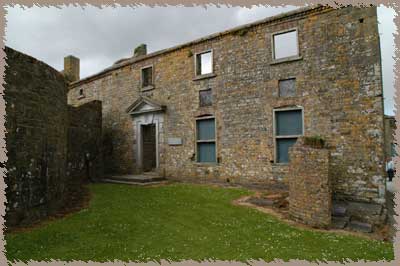 The governer's house, with a requisite ghost story to boot.
Cutting the fort in two is an enormous brick and stone wall. It was built to protect the rest of the fort from the powder magazine, which was originally built against it. THe magazine was of utmost importance for the fort, and it was solid and well-protected. There are a few gates in the enormous walls, as well -- they are small and cramped, and would have been guarded carefully to admit only friendly forces. However, even though the bastion walls are very thick, they do not contain rooms (like many castles did). They are dirt-filled and meant to withstand cannon fire.

view of the ditch protecting the landward side of the fort