other than a small dip inthe roof, still perfectand watertight after 1300 years

This weird-looking stacked stone building is a strange sight, sitting at the end of a long gravel path. It's made with dry-rubble masonry, each stone stacked on the other without mortar or any kind of filling. THe stones all slope slighly outward, so the buidling is completely waterproof. The building is about 1300 years old, and has a single doorway on the west end. THere is a window on the opposite wall.

hinges for the wooden door inside
Inside, the rounded brackets for a doorway can still be seen, and the walls look like they have been plastered. The building is called an 'Oratory', and is an early christian monument. There are about 20 of these types of buildings in Ireland (including one in Kells), but this is the best preserved. It was most likely built between the -9th and 12th centuries (based on the informatoin that CHristian churches weren't made of stone until after the 9th century.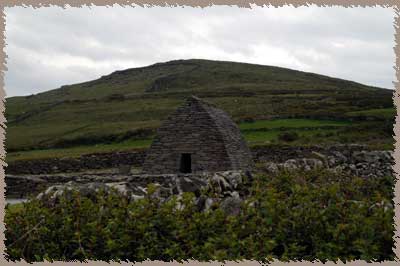 another view of Gallarus Oratory, from the nearby field
an early christian cross near the oratory
The rounded shape, like an upside-down boat, is thought to be a transition between the round beehive huts (clochan) and later rectangular churches. It is a place of prayer and worship, although most of the references I have say it is not exactlya church, more of a retreat.
There is a small, early christian cross on the way to the Oratory. We found a similiar cross and Clonmacnoise and at xxxx.
Nearby is Gallarus Castle, and the remains of Kimakedar Church. If you continue on past the oratory, you can find the Great Blasket Center, which recounts the history of the Gaelic-speaking villages on the nearby Blasket islands, and has some wonderful language resources.