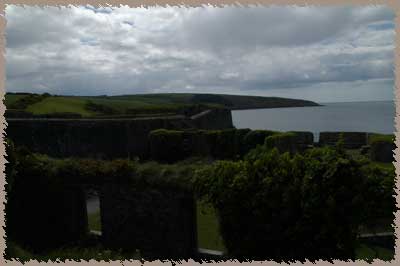 looking out over the seaward bastions of Charles Fort

Charles Fort lies along the eastern edge of Kinsale Bay and overlooks the lovely little town. It is actually hard to see from the landward side -- until you get up on the little hill...and then you can look down into it directly. Which doesn't make much sense for defense, actually. Just set a few cannon up on the hill and lob balls into the fort. There are deep ditches and pointed defences facing the harbor, but on the landward side, it's quite vulnerable.
The fort is a rough 5-point star shape, which was common at the time for the French, and was designed by a french architect, de Vauban, chief engineer to King Louis XIV. It was finished in 1677, and even today seems untouched by war, weather, or time. It's a massive stone structure. It is the largest start fort of its kind in Ireland (possibly the British Isles -- I'll have to check.) It is designed specifically for siege warfare, and marked the zenith of fort design in the 17th century.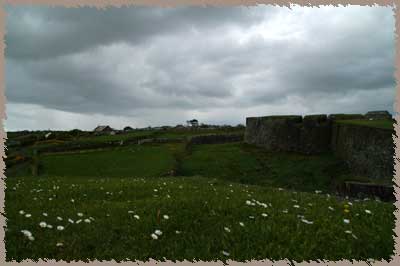 landward bastions and ditches and revetts
Charles Fort was attacked in 1690 by WIlliamite forces and the bastion was breached after a 13-day siege. The soldiers were allowed to leave, and the fort fell to the English. It has been used almost continutously since, as a military base and for training. Many of the buildings on the site were built in the 18th and 19th centuries. They are roofless and burned: Irish forces in 1921 destroyed them to deny the fort to the English. THe fort was handed back over to the Irish in 1922.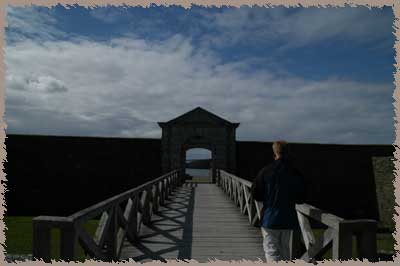 the main entrance to the fort
Kinsale was originally a Viking trading post, and the town was continuously attacked and defended since the 10th century. These attacks continued to stress the need for coastal defences and after a blockage in 1667, earthwork fortifications were begun, and an enormous chain was stretched across the harbor. Gun emplacements also defended the harbor. The earthworks were not adequate, and construction on the fort begain in 1677. In 1681, it was renamed CHarles Fort (after King Charles II).