foundations for the water towers, just inside the entrance to the fort

The entrance to the fort is through an arched and bridged gateway that passes between the ditches and revets that make up the landward-side defenses. The outer ramparts have a deep, dry ditch between them (apparently you can play football in there) and also have covered stations for the soldiers to protect the fort with rifles. Just inside the entrance is the office (where the gentleman minding the counter wanted to add the Colorado state motto to his list...and we had no idea what it was! He looked it up while we were wandering and gleefully told us that it was Centennial state. We had a good laugh about it). Also just inside the gates were the strangest pentagonal brick foundations -- three of them. They were the foundations for the water tanks that fed the entire fort.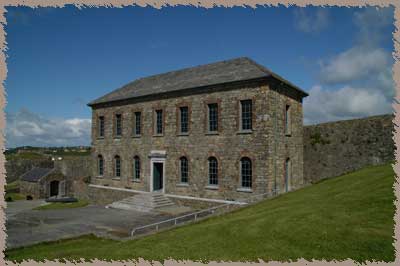 the commandant's house, then storage, now a museum
Inside, there are two main bastions on the seaward side (Devil's Bastion and Charles' Bastion) which can cover all entrances to the harbor. They were modified to hold heavy guns in the 19th century. THe "pointier" land-side bastions (North, Flagstaff, and Cockpit) are closer ot the original layout. The Flagstaff bastion is the largest and was designed as a last retreat, since it could defend against forces within the fort.
It appears that only one of the buildings in the fort has been completely restored, and it houses presentations on the fort (and nearby James' Fort), as well as information about the attacks on Kinsale. It was originally built as the Commandants house, and later as the forts store. The tour starts here -- and it's worth every minute you wait for it. It's supposed to be a half-hour tour, but I think we spent more than hour wandering around and getting the history (and obligatory ghost stories) of the fort.

officers quarters, and the governor's house
The southern side of the fort is lined with brick buildings, which are probably the oldest buildings in the fort.These buildings were married soldier's quarters (soldier's wives being in much demand for cooking, cleaning, and laundry). The governer's house, much ruined, is also on this wall.