part of a face, filled in to the wall
The very large church had a nave and aisles, which remain along with the chapels. The chancel of the church was made into living quarters in the 16th century, and many windows were added. They were occupied until the 20th century by members of the Coldough family. The lands were originally granted to Anthony Coldough, an officer under Hentry VIII after the the dissolution of the monasteries. His family subsequently extensively modified the church, and even added the battlemented walls and the lovely bridge around the abbey grounds. The last member of the Coldough vamily, Lucey Marie, lived here until 1959 and the abbey was handed over to the state.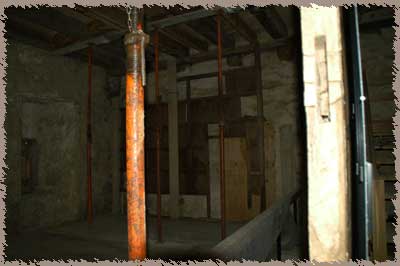 scaffolds and braces inside the tower
Restoration is ongoing, and the excavations here between 1982 and 1994 revealed much of the oroginal fabric o the building, long hidden by the changed required to turn the abbey church into a residence. Scattered around the site are building materials, replacements slates, doors, and other bits of detritus.
The grounds are well kept, and behind the abbey is a long path leading up to a small church, overgrown and much ruined. The narrow sea inlet is spanned by a heavy gothic bridge.

gothic-topped bridge behind the abbey