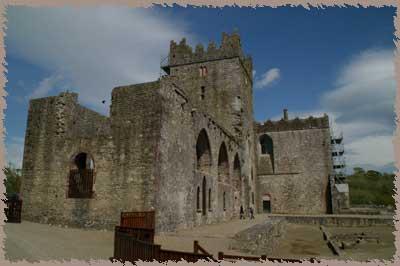 the church is remarkably well preserved -- and was inhabited until 1969!

It is named after Tintern Abbey in Wales (also funded by William Marshall)-- the first monks here came from that abbey. The first Cistercian foundation in Ireland was at Mellifont, and marks the beginning of the expansion in Ireland. By 1169, fifteen Cistercian houses existing in Ireland. This abbey is also referred to as "little Tintern" or as 'Tintern of the Vow" to differentiate it from the mother house in Wales.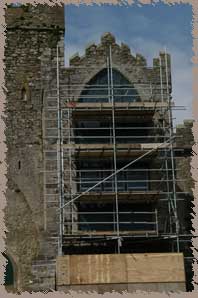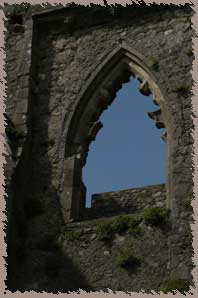 scaffolding o the chancel / damaged windows on the tower
The abbey follows the standard Cistercian plan (and after you've seen a few of these, it's remarkably easy to recognize where things go). The church is on the north side of an enclosed cloister, which is surrounded on all sides by the domestic buildings. The original stone church here was abandoned at the end of the 13th century and the current structure was built. THe chancel is nothing more than a shell, with most of the windows long gone, but there is a stately elegance to the structure.

arched windows filled in with grates
By the end of the 15th century, though, the abbey was falling into disrepair and records show it was rebuilt by the abbot himself. It was supressed in 1536, although many monks remained during the Dissolution.