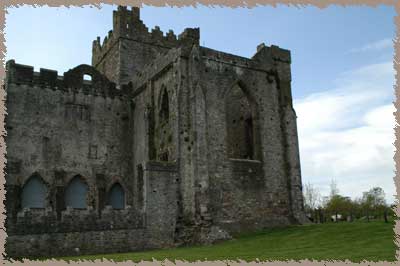 the enormous cross arm of the church

A lovely long drive leads to this abbey. We were the only ones visiting, but there were about a dozen workmen who are currently restoring this enormous abbey. It is in rather good repair now, but scaffolding and internal braces hint at more restoration work to come. We got to go inside (probably not quite kosher, but we asked the workmen and they said we could wander around inside as long as we were careful). Most of the interior of the toiwer is jacked up and braced with enormous beams. We went up a few floors inside and then things started to get a bit creaky and we beat a hasty retreat.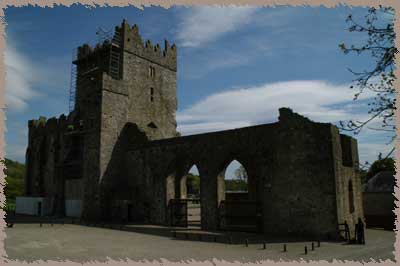 the remains of the aisle and the main tower
The abbey is Cistercian, and founded by the Earl Marshall of Ireland in 1200.He granted 9000 acres to the abbey based on a vow he made to fund a religious order if he survived a particularly bad sea voyage. I imagine that he would have promised god just about anything to avoid shipwreck, so he upheld his vow. Over the next few centuries, Tintern continued to amass land in Wexford and was considered the third richest Cistercian Abbey in Ireland (Mellifont and St. Mary's in Dublin were greater).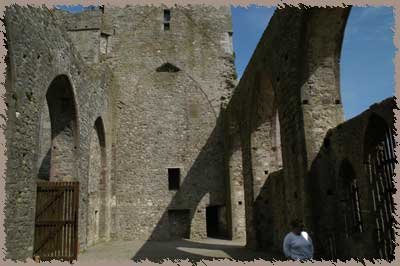 looking up the aisle to the tower