looking at the transept and the crypts in the aisle

The abbey is fairy extensive. The remains on the site include the narrow church tower, and the aisle and transept of the church still stand. Parts of the cloister are in good repair, and some of the friary buildings can be identified as well. The tower dates from the 16th century (perhaps 1510?). THe east and west fronts of the church remain standing, and the entire abbey as a very graceful appearance. Narrow windows and wide arches fill both walls. Three bays of the cloister still stand a well.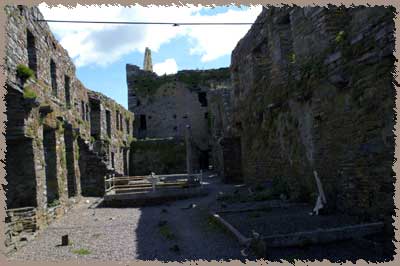 down the long axis of the church
The abbey was also famous for Spanish wine, which it apparently bought from smugglers and sold to the local nobility. The location of the abbey on the shores of the river made it easy to transport the casks. Over a thousand casks were found in the 17th century whent he English sacked the abbey.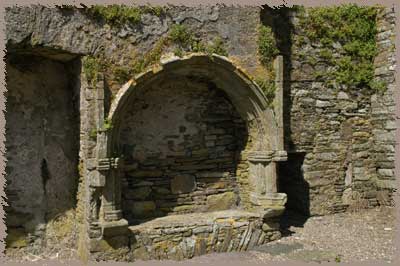 remais of an arched niche (not a fireplace!)
Timoleague Castle is nearby, with a walled garden.