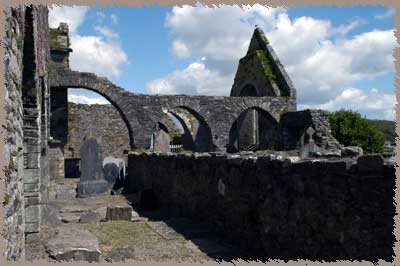 the arches of the main church at timoleague abbey

The small remains of this abbey are on the shore of the river here. It was founded in the 13th century by the Franciscans under the patronage of Donal McCarthy, a prince of Carbery. Like most abbeys, it was sites where an earlier monastic settlement had been built: St. Molaga had a foundation here in the 6th century.

three bays of the cloister still intact
The abbey was enlarged in 1312, and continually modified by both Irish and Norman patrons through the 16th century. Even though the abbey was dissolved along with all the other Irish abbeys, it was repopulated around 1604. It was attacked and partially destroyed by the English (who smashed all the windows) in 1612, but monks remained here until almost 1630.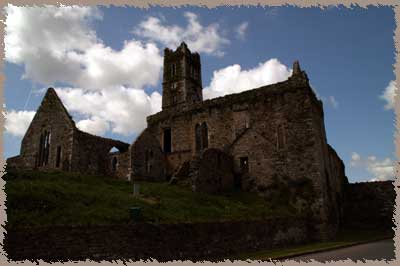 the abbey from the road, highlighting the thin tower
At one point, the manuscript known as the Book of Lismore (an illuminated copy of the gospels, much like the Book of Kells) was here until the abbey was abandoned. This is a sign that the abbey was large and important, even near the end of its life. Friars were associated witht he abbey as late as 1822.