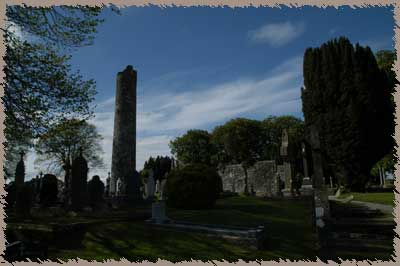 sillhouette of the round tower among the enormous trees

The West Cross is actually taller (21'), but far more worn. The scenes on this cross are harder to decipher. FInally, a small and very, very worn North Cross is sequested away inthe corner of the cemetary. It is decorated in a more geometic form and is sited next to a sundial. This one looks much older than the others.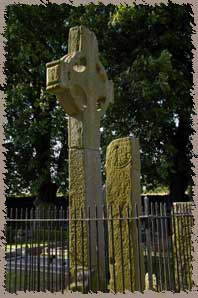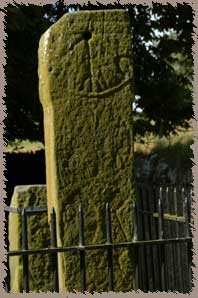 the oldest north cross and an ancient sundial
The 10th century round tower is in good shape, and may be the tallest tower in Ireland. Even without the roof, the tower is 110' feet tall. The entrance is about above ground level, and would require a ladder to get in -- a ladder that could be pulled up to prevent anyone else from following. Guides (and guildebooks) everywhere often suggest that these towers were used as refuge fro the Vikings in the 9th-11th centuries, but this would be a singularly bad idea: start a fire in one of these and it becomes a chimney. Most likely, they were lookout towers, but were not used as a hiding place for very many people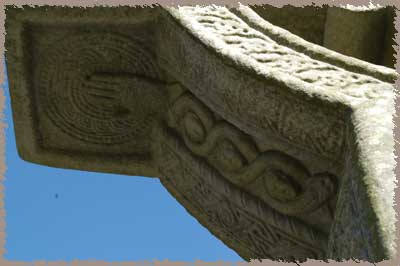 one of the arms of the High Cross
There are also two very ruined churches on the site -- one from the 10th century and a smaler one from the 13th century.