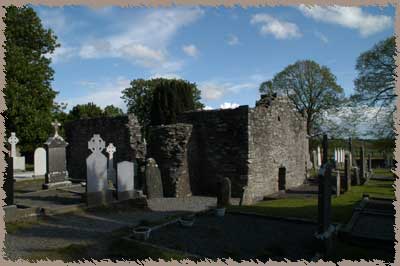 ruined church at Monasterboice

The monastery here has so few buildings remained that it is hard to imagine a thriving community here. St. Buite founded the monastery here in the early 6th century, but other than that little factoid, I can find little about the place. The name is an Anglicization of Mainistir Buite, or "Buite's Monastery". IT was an important monastery until the founding of Mellifont (which was intended to overshadow the Irish monasteries of the area).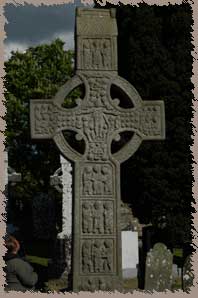 Muirdach's cross and the Tall Cross in the churchyard
Since little remains here of a classic monastery or abbey, the primary attractions here are the two lovely High Crosses and a round tower. The most important cross is St. Muiredach's Cross. The panels of the cross are biblican stories, and the cross is named Muiredach based on an inscription on the shaft: "A prayer for Muiredack by whom this cross was made". It dates to roughly the 10th century, and probbaly refers to Abbot Muiredach who died in 923.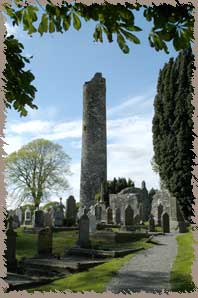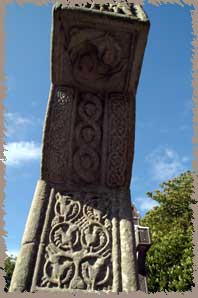 the tallest round tower in Ireland / geometic panels on Muirdach's cross
The scenes on the cross are usually meant to educate the viewers, or represent common andpopular stories from the bible. THey are usually open to interpretation, but usually devoted to the life of Christ or stories of creation. The east side of this cross is the story of Adam and Eve, David and Goliath, and Moses. The Last Judgment decorates the center of the cross, while the west face is the life of Christ. We can't quite figure out why some places have these high crosses, andother, larger monasteries don't usually have them. Are they like the massive crypts built in churches as expressions of piety (and wealth) or are they commissioned by the church? Wealthy patrons? Are they gravestones? Why does this place have three, and a huge monastery like Mellifont or Sligo have none?