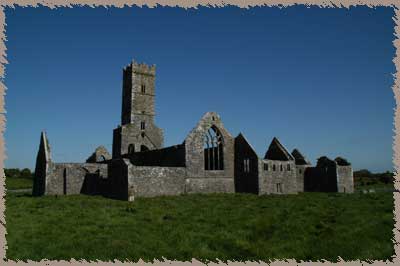 the ruins of Kilconnell Friary

Neary every description of ruins in cludes "one of the finest...." somewhere in the text. Kilconnell is no different, although the ruins here are especially lovely and well-kept. Kilconnell is a Franciscan Friary, which was founded by William O'Kelly in 1414. (This is according to the Franciscan order themselves.) The Irish name forthe place is Cil Chnaill -- Conall's church.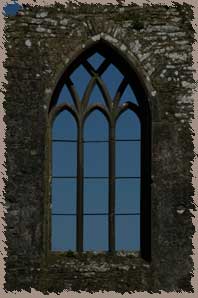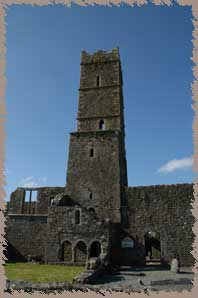 delicate tracery in the windows / the well preserved tower
Other sources note that it was founded in 1353 by William O'Kelly, the Lord of Ui Mhaine on the site of an earlier monastery. THe earlier site was founded by St Conall (hence the name) in the sixth century, although nothing remains of the earliest buildings here. Sometimes a few stones remain from the earliest buildings, but I couldn't find any references here.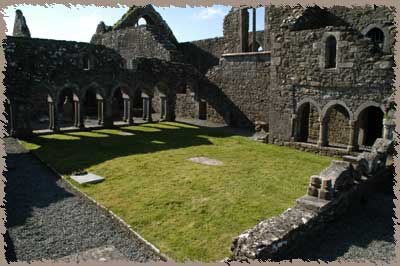 the remains of the cloister walk
The current ruins incldue the substantial remains of a church with the nave, choir, south transept and aisle in place, and the foundations of some domestic buildings. The tower is in remarkable chape, and the east rang e of the convent and just a bit of the cloister remain. I love the cloisters in these old abbeys, so I tend to wander around them and take dozens of pictures. WHile they would seem to be the same (a square with a collonnaded walk) they really differentiate all these ruins for me -- some are squat and dark, others delicate and lovely. I have probably two hundred pictures of columns in various cloisters around Ireland. Maybe more. The cloister here is quite ruined, but bears many masons marks on the remaining columns and stones.