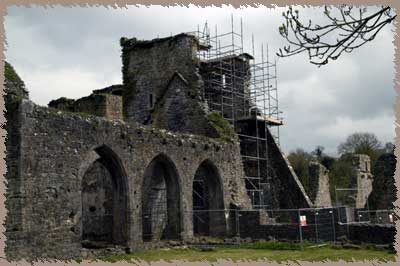 aisle of the church and the scaffolding

The priory here was founded in 1193 by monks from Cornwall under the auspices of Geoffrey de Marisco; it is a suprise in the small village -- although there is an enormous stone bridge in town, and a few other interesting ruins.There is a complete curtain wall (which encloses a few acres of grass) that has square towers and an enormous gatehouse in it. This is one of the largest monastic ruins in Ireland -- although it is much less famous that the "other" kells. The towers are unusual to find -- most abbeys are reduced to just the church and immediate cloister buildings. Here, the square towers were really tower houses (one was even occupied as late as the 18th century) and overlook a large outer courtyard that was probably used for livestock.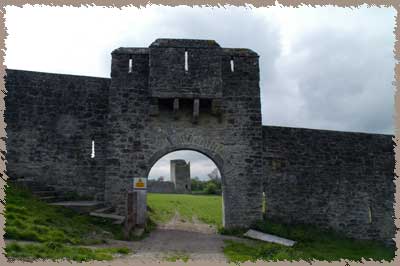 gatehouse to the enormous outer courtyard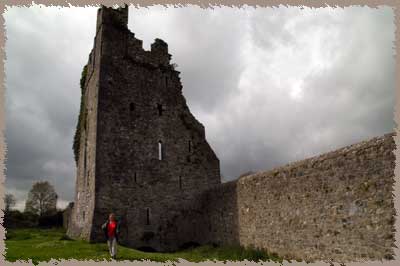 one of the square tower hosues in the wall
Inside, there is the ruin of a 14th century church and 15th century additions, in various tates of ruination and repair. Scaffolidng around the tower and some lovely refinished pieces imply that current work is going on here -- but we didnt' see anyone, of course.