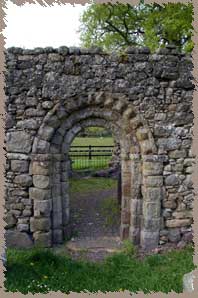 A lovely
A lovely romanesque doorway in the ruined church at near the town of Kilchurch (ok, I think it's near the town of Kilchurch, because I didn't really label the picture and only had a brief note that it was a ruined church near the town. It could be anything.
The church is small and very ruined, but has some lovely details around the doorways and windows. The cemetery looks very old but there are also some new burials there.
I'm trying to identify the tower house in the background of the third picture, which will let me know where on earth we were when taking this picture. Why can't cameras flag the photo with the GPS coordinates, eh?