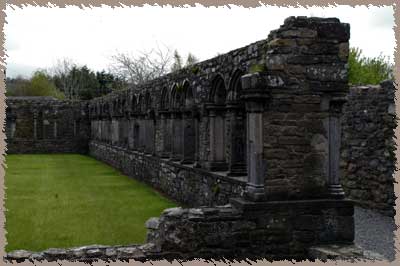 the cloister was restored in 1953
The aisle has alternating square and round piers, which is a common plan and mimics the parent abbey at Baltinglass. It was built over many centuries, of course. Most large houses have several stages of building, and the styles cn change dramatically from one period to the next. Parts of the church are definitely gothic (pointed arches, grotesques) and others are romanesque -- including many of the church doorways and eaves.

The church has three aisles, and like (almost) all Cisterian abbeys, it lies along the north side of a square cloister that is ringed with other buildings: the Chapter house, refectory, dormitories, and the kitchens and bakery. Also inside are some lovely frescos in the nave, and restored sculptures of saints inside. There are remains of a cross-wall that separated the brothers and lay members of the order.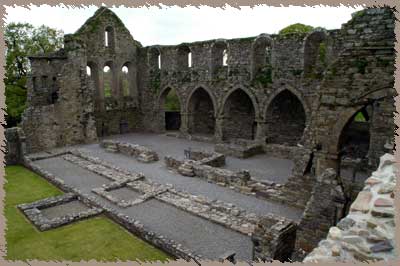 foundatoins of the church

floral decorations on the heads of piers in the cloister