parish church dedicated to st. Kieran
Kier Seran is a 6th century church stands just off the rodaway here, with the stump of a round tower that has been truncated and capped off. I can't really find much about the church, except that it is dedicated to St. Kieran, the son of a carpenter and one of the most educated monks in Clonard. The cemetery here is still in use, it appears.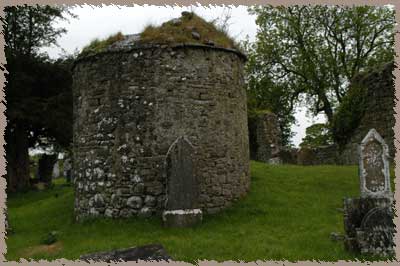 stump of the round tower in the churchyard
The round tower is just a stub (it's crumbled in the back, and drops down a few feet on the inside). Unusually, the door is roughly ground-level. Doors on round towers are normally well above the ground, for protection. There is also the base for a high cross in the church grounds, although no trace of the actual cross remains. A Sheela-na-gig (a rather rude female figure that is found on churches and towers) was found here and on display in Dublin.

even smaller stump of a high cross in the churchyard