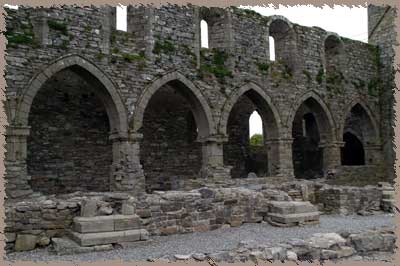 gothic arches in the church aisle

The CIstercian abbey at Jerpoint is related to Baltinglass Abbey and was probably founded around 1163 by Donal MacGillapatrick the King of Ossary. It may have been a Benedictine order originally, and was only recognized as Cistercian after 1180. By 1228 or so, there were 36 monks and fifty lay brothers at the abbey. In the sixteenth century, the abbey comprised 1880 acres. Jerpoint was originally a child-house of the Baltinglass Abbey, but eventually became the mother house for abbeys in Tipperary and Kilkenney. By 1227 it was affiliated to Fountains Abbey in England. The "mother"-chapter relationship of abbeys refers to the parent chapter of the monastery, and the rules it is supposed to follow. Chapters recognize the authority of the abbot of the mother house, and support it.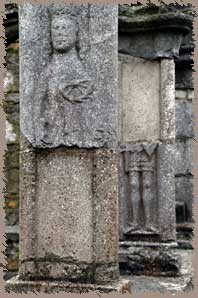 carved knights in the cloister / one narrow aisle remains
The ruins date from around 1200. THe oldest parts of the abbey are the transepts and chancel, which are in the Irish-Romanesque style. The main tower was added later (in most cases, abbeys were not designed with the central tower that usually dominates their ruins. The towers were added later, usually when the abbey was fortified). It probably dates from the 15th century. The cloister and the arches are well-restored, and its easy to see the structure of this large abbey. The ruins are large, but the remains of many of the non-church buildings are recognizeable as well. They are only fragments, but its easy to see whre things went, if you've seen a few abbeys.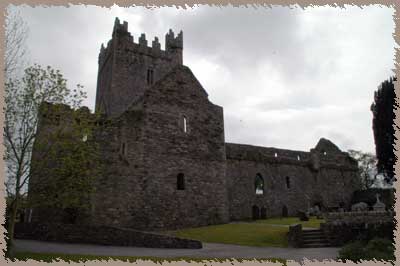 the majestic ruins of Jerpoint Abbey
I really love wandering around and trying to identify the different buildings. Most of the time, I need the map to figure out what i what, but after a while we got pretty good at the layouts of Cisterian abbeys, at least. There wwas a 'standard" plan -- church on the north, square cloister, other buildings arranged along the outside walls.