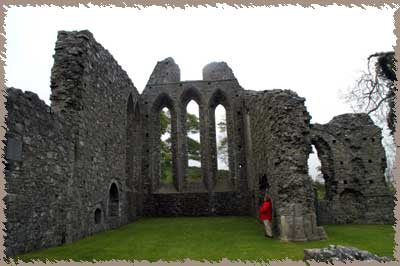 looking into the transcept

Like many other churches (noteable Hore), parts of Inch were walled off inthe 15th century and the transecpts were walled off, leaving only a simpe rectangular church. The tower collapsed at this time, as well. It has been partially restored, of course, and efforts in 1914 rebuilt much of the presbytery, which now has seven lancet windows, even though the rest of the abbey is low stone foundations and the squat stumps of piers taht barely clear the lush grass. Unfortunately, much of the repairs are done in concrete, wiht little attempt to recreate the actual structure of the monastery -- in most cases, if archaeologists have to restore pieces, they do so with obvious repairs; there is noq uestion that the new parts are new, and meant to fade away into the badkground so the real remains can be seen.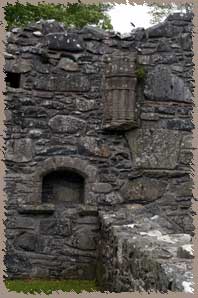 corner of one crumbling tower / niche and base of an arch
The lands were granted to the Earl of Kildare after the Dissolution of the monasteries, and it continued to fall into ruin through the 19th century. Restoration work has reconstructed the east end of the church and someof the lancet windows in the choir, but the ruins to the west are mostly foundations. It's possible that the western domestic buildings were wooden.

the only remains of the outbuildings