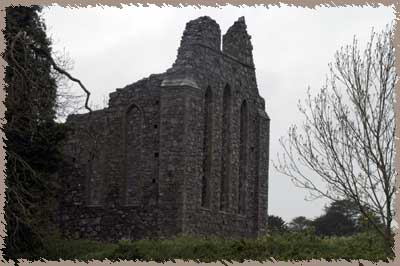 the remaning wall of the transecpt

The abbey here was founded by John de Courcy in 1180, and belongs to the mother house of Erenagh, which was burned by de Courcy in 1177. It was founded on the site of an earlier monastsery called Inis-Cumhscraigh, which had existed since 800 and spent its history being attacked by Vikings (1001) and the Irish warlords and was finally abandoned in 1153, leaving the area open to the new English conquerors. Any faint remains of the original monastery here in the graveyeard north of the current church.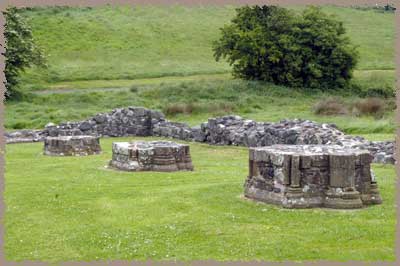 column bases in the nave, or what remains of them
The essential buildings had been compldted by 1187, and more monks arrived, which meant that hte bulk of the monks here were now English, inestead of Irish. The current stone church is obviously Gothic in style, and was finished around 1200. The lancet windows and the complex columns (of which only bases remain in most cases) were ahead of their time -- the details and construction ofthe church are quite advanced for Ireland, perhaps because ofthe strong English influence in its founding. In fact, the Irish were banned from the abbey in 1380.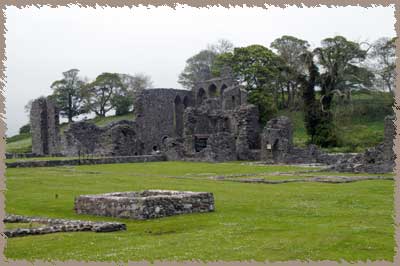 looking back at the ruins of the church