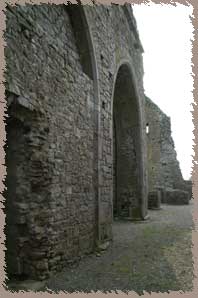 the arches of the nave have been filled in / the floorplan of the abbey

The current stone church took about 30 years to complete. It is very plain, with almost no decorations at all. Only the occassional leaf or plant motif show up on the stonework to keep this from being completely bare. The abbey followed the traditional Cisterican plan -- except that the cloister is to the north, possibly because the Rock of Cashel lies in that direction. THe church and the east range remain, the rest of the buidlings are only foundation stones or gone entirely., Two chapels in each of the transepts also are traditional.
The central square tower, common to Cistercian buildings, was added in the 15th century. At the same time, the size of the church was reduced by buidling walls to block off half the nave and the transepts, which where then transfomred into houses. FIreplaces and blocked windows can attest to the noew buildings.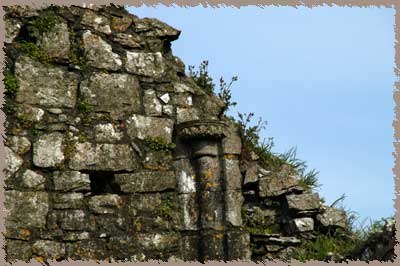 remains of a pier and decorated capital, one of the few in the church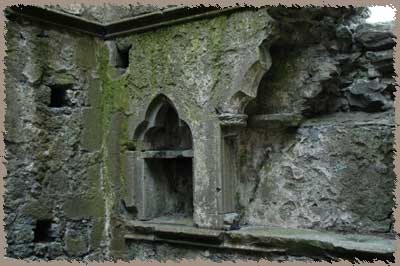 a decorated gothic niche in the nave, perhaps a piscina?